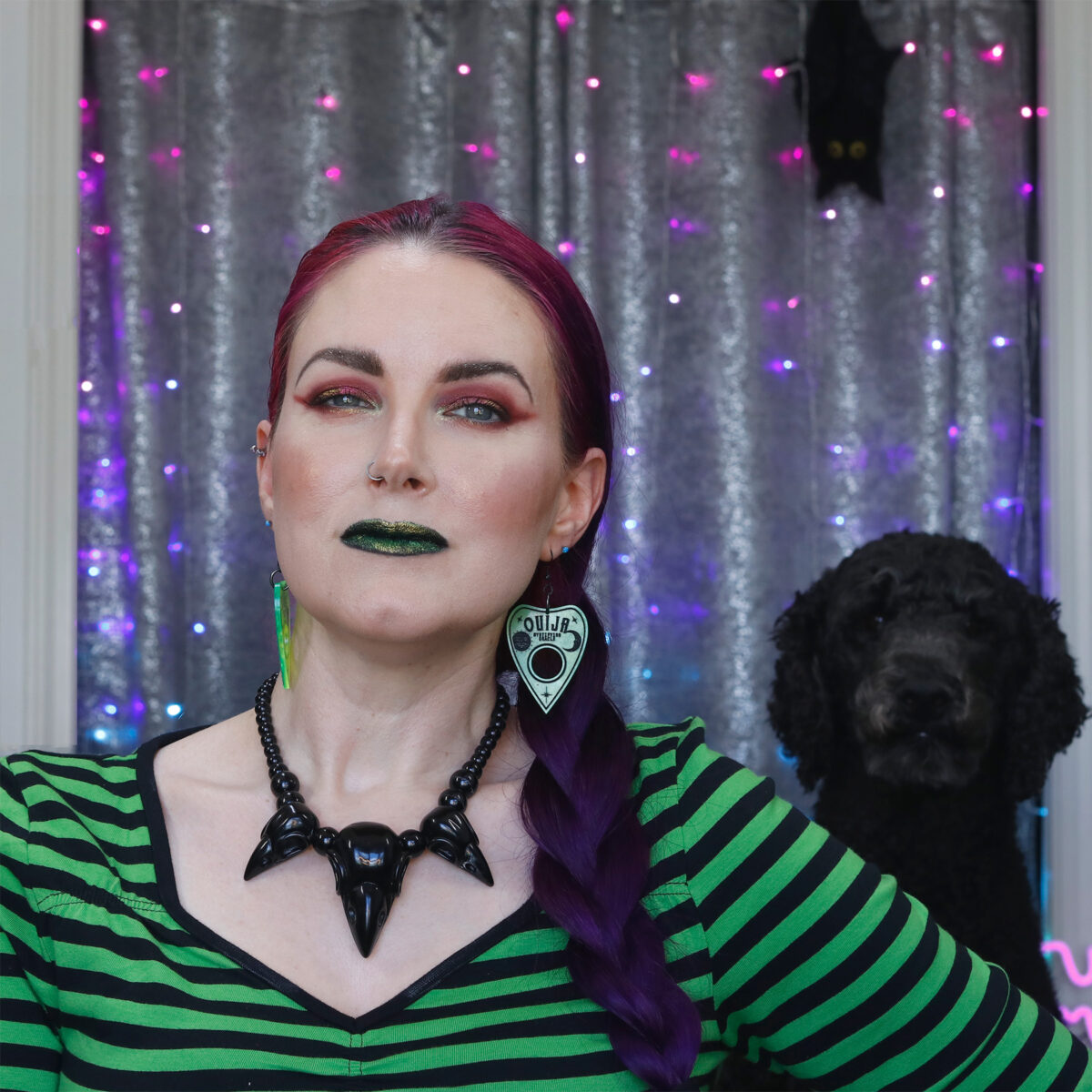 Hello, beautiful creatures! Today I'm sharing my Terra Moons Mirage Light Year look with you. I love my indie eyeshadows, and Terra Moons and Lethal Cosmetics are in almost every look I put together these days.
Mirage Light Year Outfit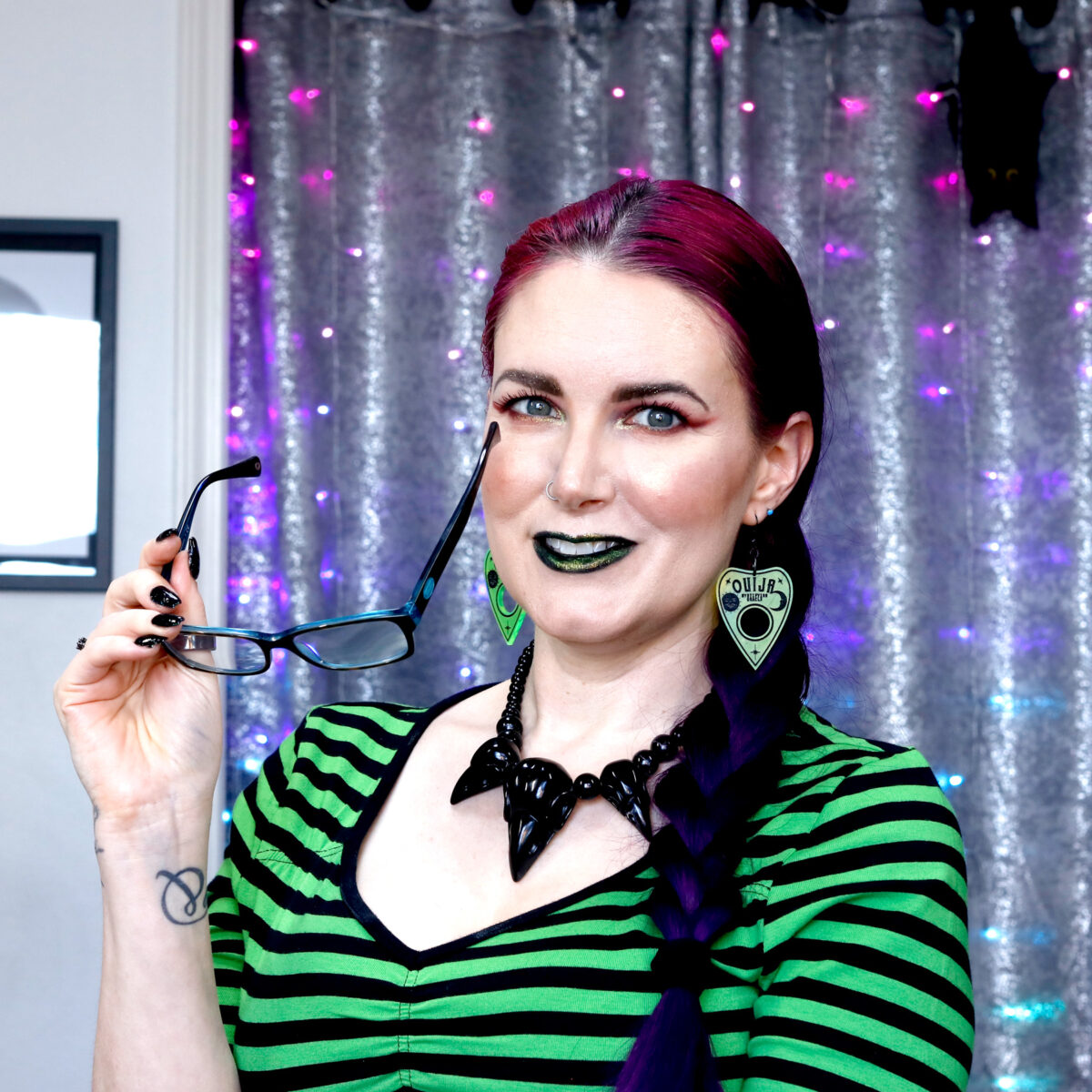 Fashion
Black Crow Skull necklace
Hell Bunny Green and Black striped shirt (I love this shirt so much I also own it in orange. I'd buy it in purple if it existed.)
Green Ouija Planchett earrings (similar styles)
You can see my glasses that I wear when I'm working. They help to reduce glare and eye strain.
Terra Moons Mirage Light Year Look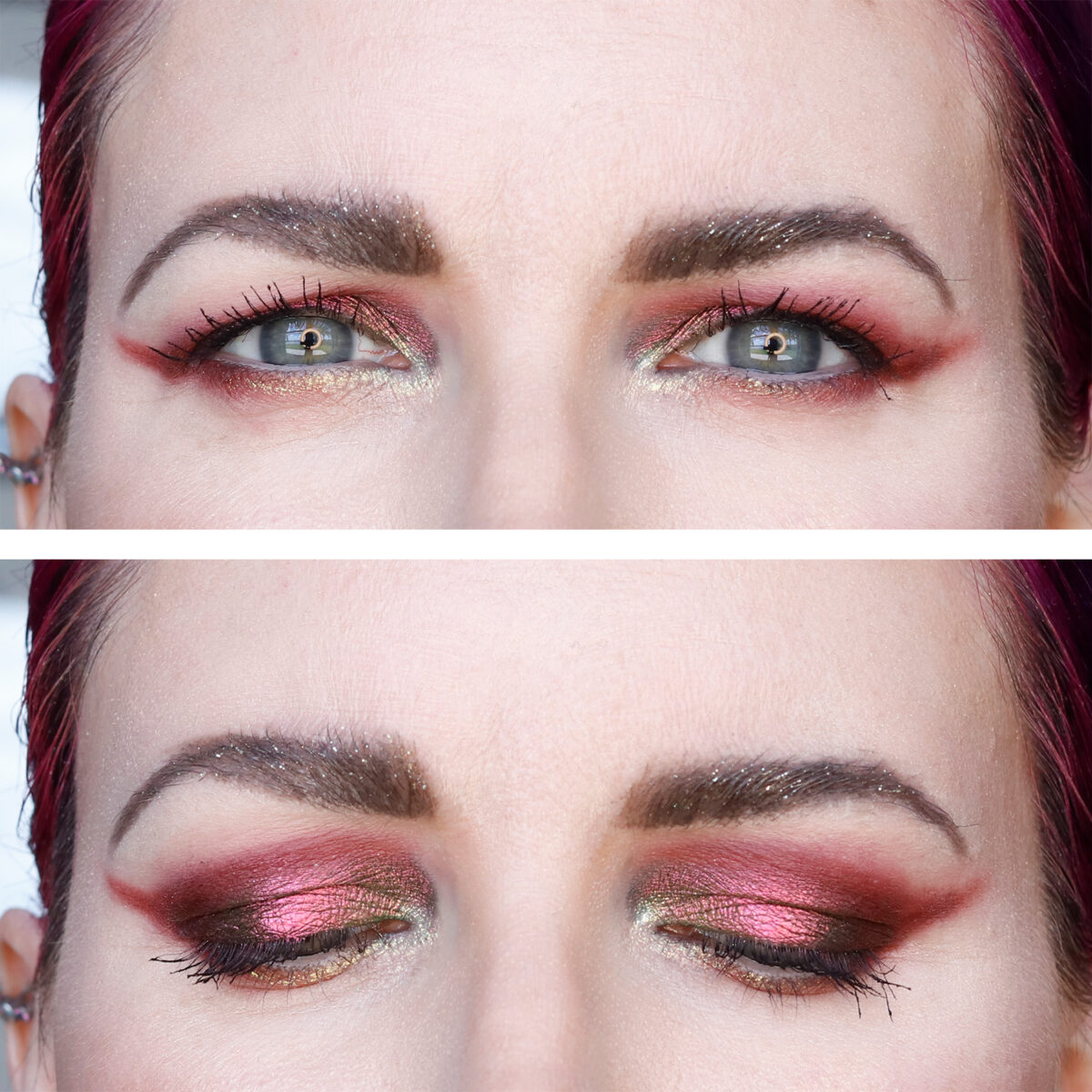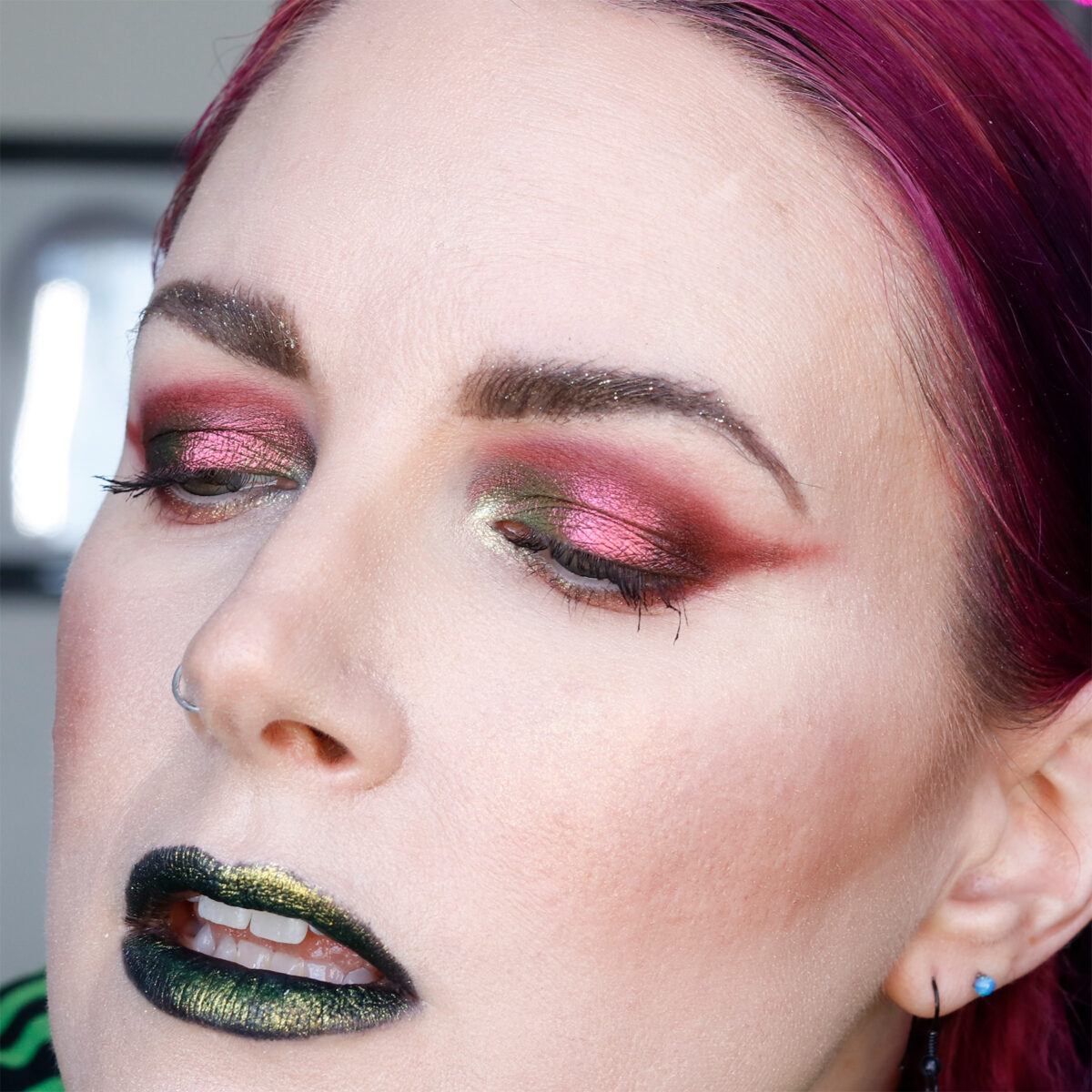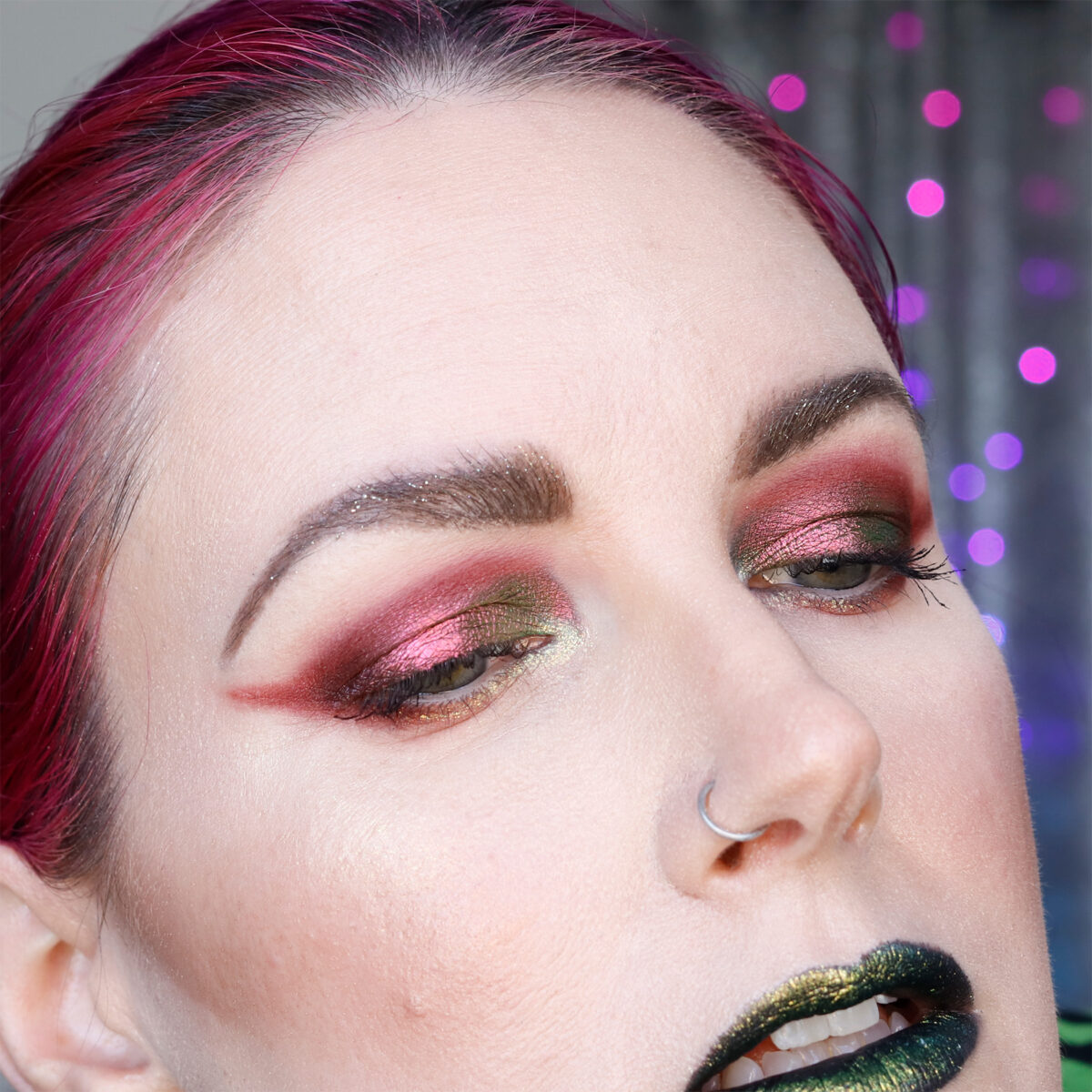 Brows
Lime Crime Smokey brow pen
Lime Crime Sleek Black bushy brow pomade
About Face Gold Dusk Woman glitter brow gel
Eyes
Urban Decay Eden primer
Melt Sweetheart (Gemini II) crease and lower lid and wing
Melt Love Suck (Gemini II) to deepen Sweetheart
Lethal Moonbeam to blend out edges
Concrete Minerals Glitter primer
Terra Moons Mirage lid
Terra Moons Light Year highlights
Terra Moons Blood Moon accent
Nabla Black Cupid's Arrow
Nabla Ivory Cupid's Arrow
Thrive Causemetics Liquid Lash Extensions Mascara
Glowing Multichrome Makeup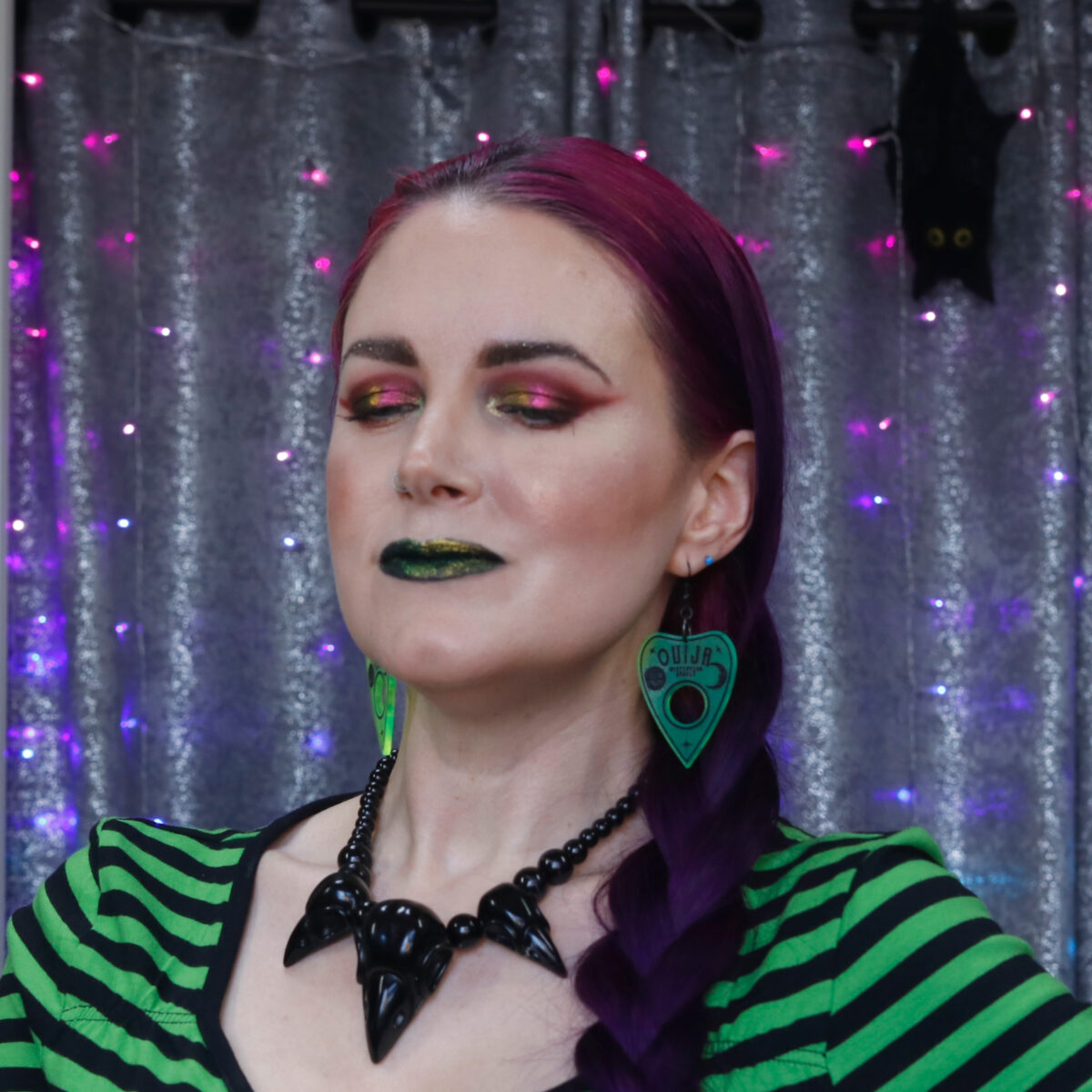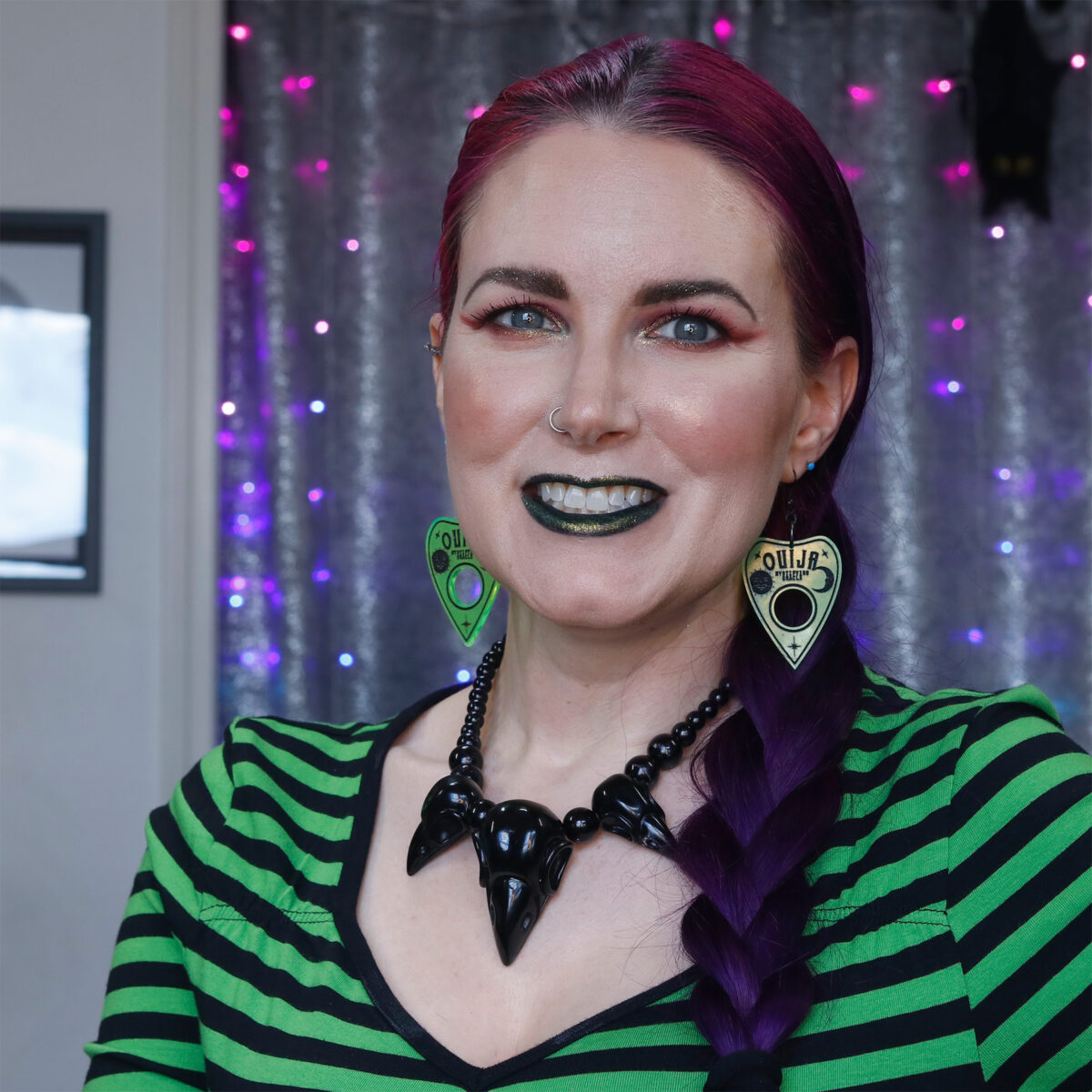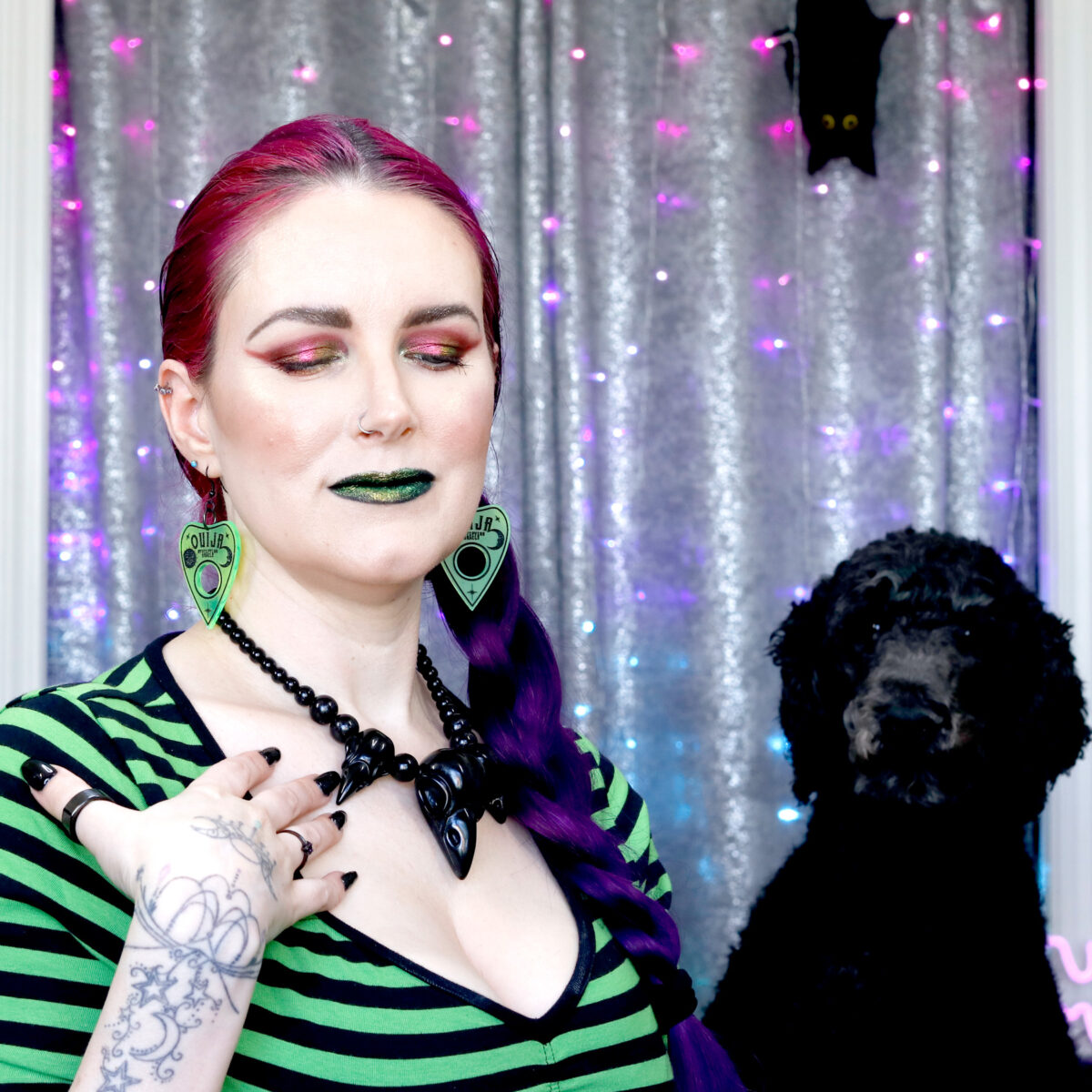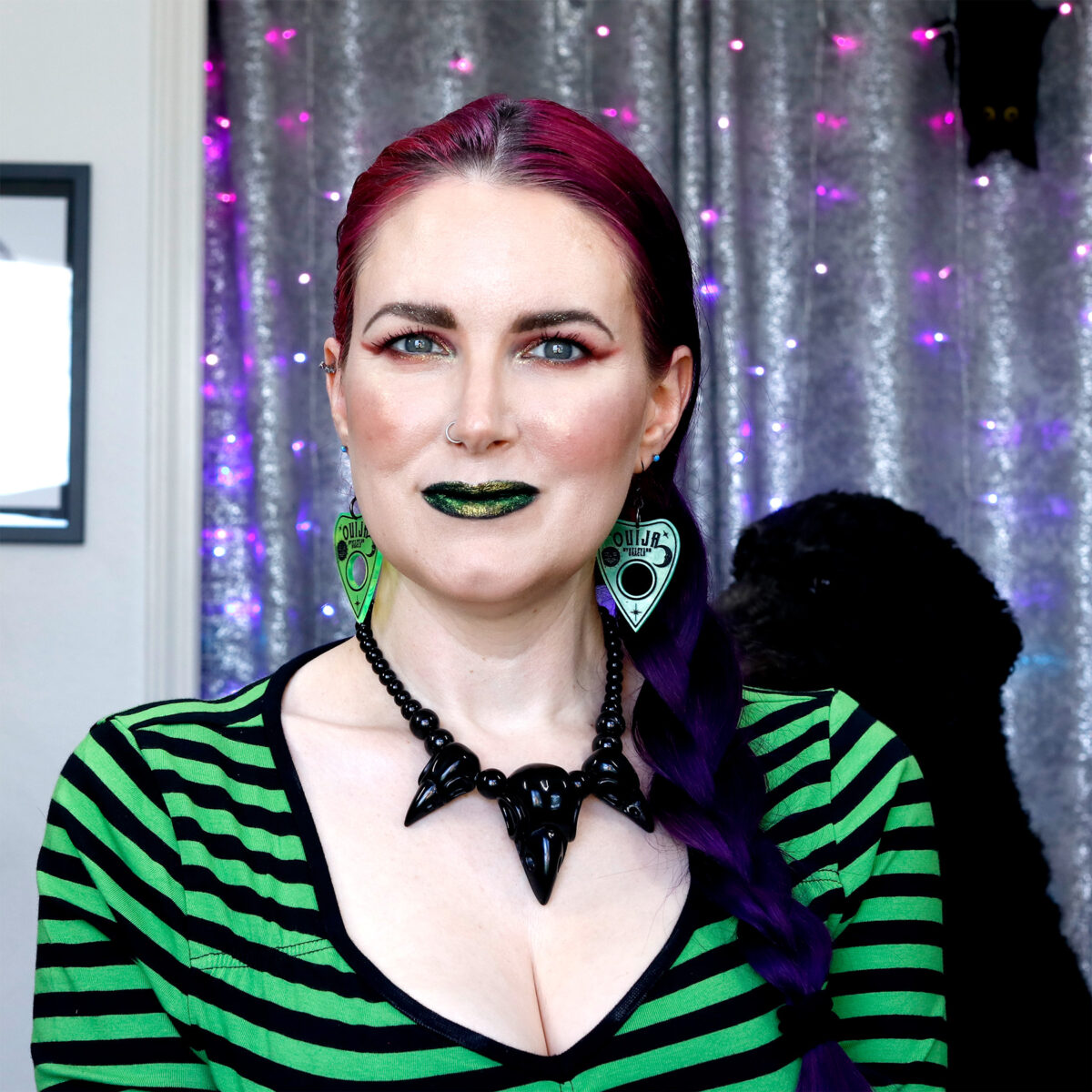 Face
Auric Glow Lust in Morganite 2.0
Danessa Myricks Yummy Skin Blurring Balm Powder in Shade 1
By Mario Softsculpt Transforming Skin Enhancer in Light
Nyx So Taupe Sweet Cheeks Glow blush
Silk Naturals VIP loose blush
Black Moon Glow worm highlight
Terra Moons Light Year highlight
Lips
KVD Skully pencil
Silk Naturals Ink lipstick
Terra Moons Light Year patted on top
I tried my best to capture the multichrome sparkle of these eyeshadows, including trying different lighting conditions.
Final Thoughts on Terra Moons Mirage Light Year Look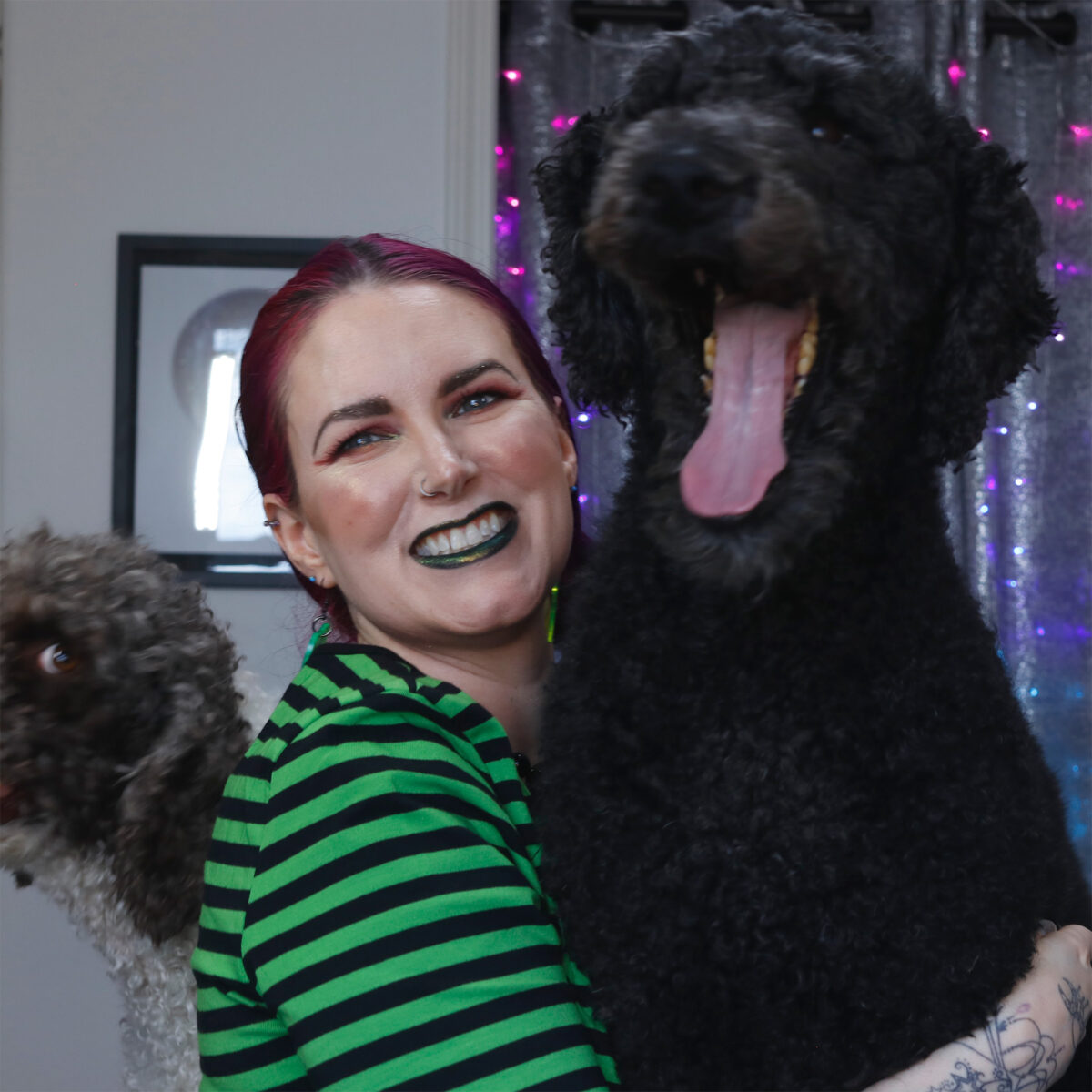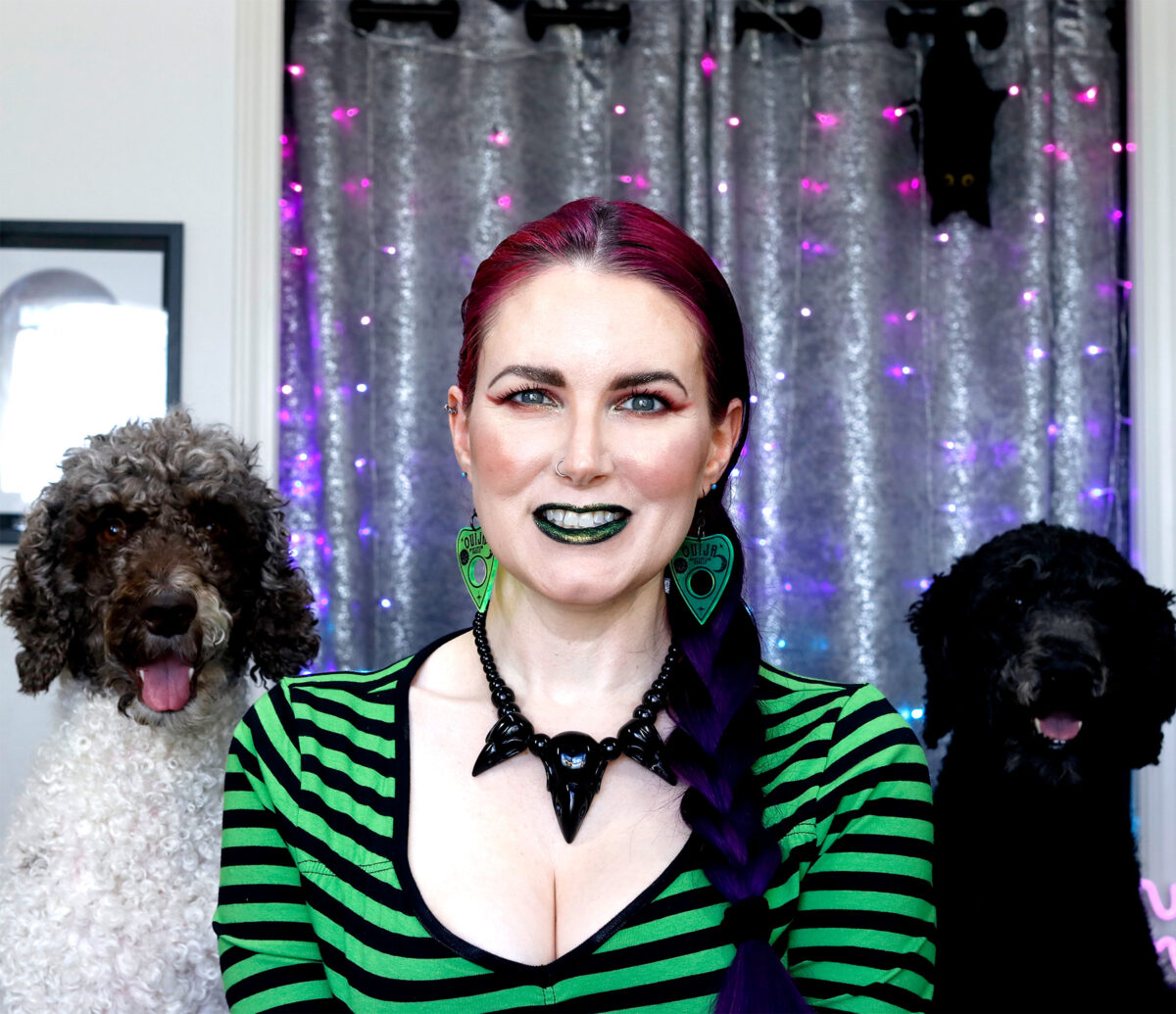 I love playing with indie makeup and indie eyeshadow! Multichromes together with mattes make me so happy when I'm playing with makeup. I love how Terra Moons Light Year looks when it's patted on top of black lipstick, patted at the inner corner of my eyes for a gorgeous highlight, and when it's applied to the tops of my cheekbones for a little extra sparkle! How would you wear this color?