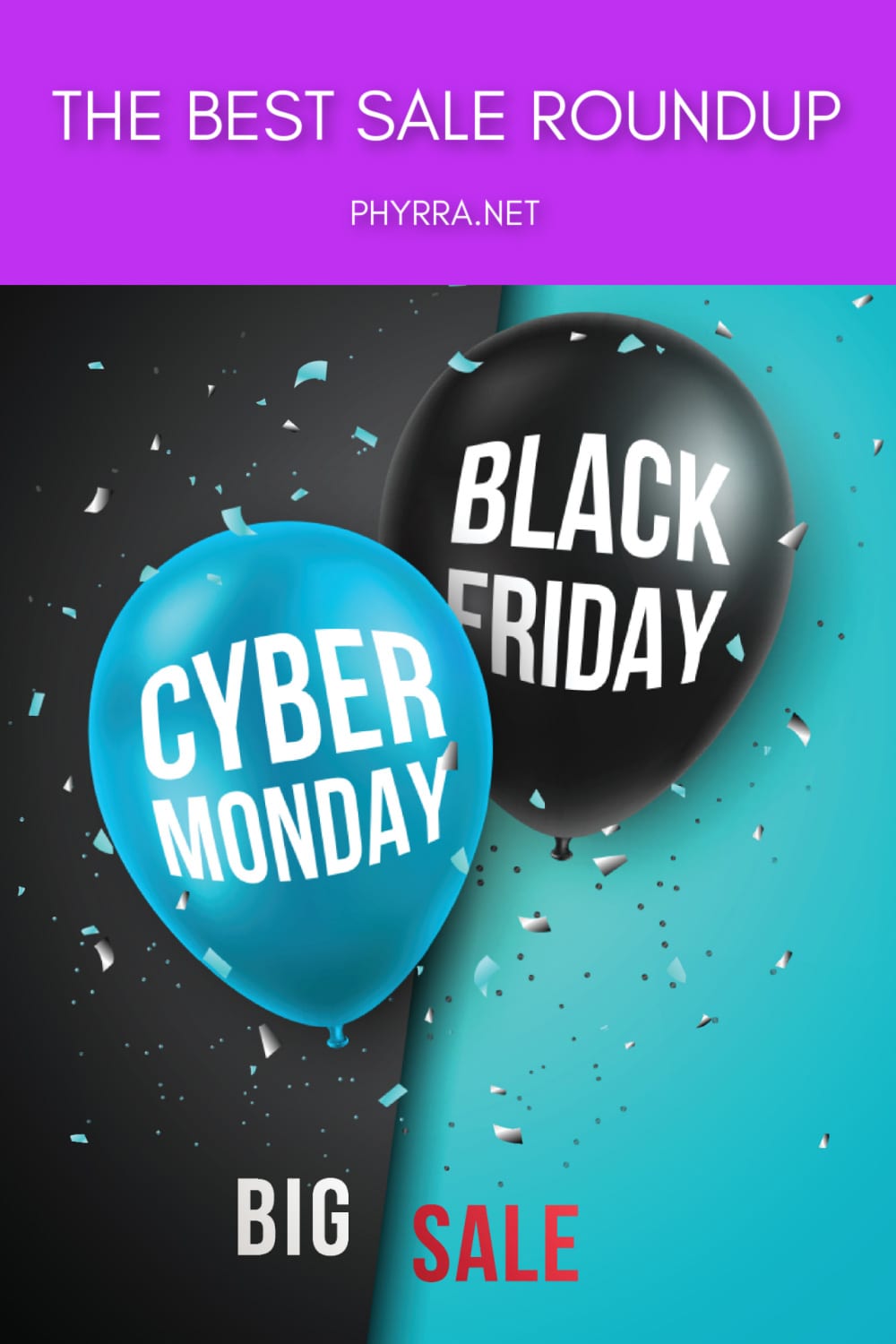 Hello, beautiful creatures! I'm bringing you the best Black Friday Cyber Monday Sales of 2022. Many of you in the Phyrra Hex Squad Facebook group, as well as on Instagram, asked me to do a BF/CM Sales post again. I'm putting this together after reaching out to many brands directly via email or IG, as well as from scouring the internet looking for sales.
I'll continue to update this list during the month of November 2022! Last updated Nov. 9, 6pm ET.
Black Friday Cyber Monday Sales
A Girl's Gotta Spa! – Nov 8-Nov 14 20% off Veteran's Day sale for GOVX members, enter your GOVX ID at checkout and it gives you a unique coupon. Nov 23 women led wednesday 15% off with code WOMENLED2022. Nov 25 spend $100 & get free $25 eGift card. Nov 26 20% off with min $35 purchase code SMALLBIZ. Nov 28 spend $40 and get free aromatherapy spray, no code needed.
About Face Beauty (Halsey's Brand) – 30% off sitewide, excludes bundles, Nov 7 through Nov 30, 2022
Amazon – Early Black Friday Sales are already up!
Apres Nails – TBD
Aromaleigh Cosmetics – TBD
Auric Cosmetics – Nov 10-Nov 15 buy 1 smoke reflect and get one velvet flutter 15% off
Beachwaver – TBD
Beauty Blender – 50% off BOGO sitewide Nov. 21 – Nov. 28
BlackMilk Clothing – TBD
Black Moon – up to 50% off sale for BF/CM
Camera Ready Cosmetics – Early Black Friday Sale – from Nov 11 8am PT until Nov. 14 11:59 pm PT use code EARLYBLACKFRIDAY for 20% off sitewide, with a few exclusions. More details soon!
Clove + Hallow – 50% off sitewide Nov 22-Nov 28, on cyber monday spend $75+ and get $20 towards a Clover purchase (aka free product)
Clover by Clove + Hallow – 30% off sitewide Nov 22-Nov 28, and on Cyber Monday if you spend $50+ you get a free Maxed out Mascara
Daily Charme – BF Nov 18-Nov 22 20% off sitewide, select products up to 40% off with code BF2022 CW Nov 28-Dec 6 25% off orders over $120. Free mystery GWP code CW2022. This is one of the Black Friday Cyber Monday Sales that excites me the most!!!
Danessa Myricks Beauty – TBD
Demiloon – TBD
Dermstore – up to 30% off over 200 brands, but can't find date range. I love to buy skin care from here!
First Aid Beauty – 22% off orders $50+ on Nov 11. 30% off Nov 22-Nov 29. From Nov 1-Nov 30 get ultimate repair cream BOGO
Florence by Mills – 25% off sitewide Nov. 23-Nov 27 and 30% off sitewide Nov 28
Foxblood – TBD
Glam Goth Beauty – TBD
Grown Alchemist – 25% off Nov 25-Nov 27. On Nov 28 get 30% off sitewide with free minis on all orders. Spend $100+ and get a GWP
Hot Topic  – TBD
IGK – Full size Mistress Hydrating Hair Balm (LOVE) with orders $35+, plus a full-size First Class Dry Shampoo (also a huge love of mine but Dave is allergic to it so I don't use it anymore) with orders $70+ from Nov 21-27. 30% off sitewide excluding bundles, sets and subscription orders with code BF2022 from Nov 28-Nov 30
Josie Maran – 25% off sitewide + free shipping Nov 23-Nov 28
Jillian Dempsey – 25% off Nov 21-Nov 28
Kaleidos Makeup – TBD
Kopari – 25% off sitewide + free shipping Nov 25-Nov 28. 30% off sitewide Nov 29-Dec 4
La Femme en Noir – TBD
Lethal Cosmetics – on Nov. 25 at midnight CET, discounts up to 70% off
Lime Crime Makeup – TBD
Madam Glam – TBD
Makartt  – $5 clearance sale right now, more info forthcoming
Melt Cosmetics  – TBD
Nabla Cosmetics – TBD
Necromancy Cosmetica – TBD
Oden's Eye – TBD
Orly Beauty – TBD
Osmosis Beauty – 25% off sitewide, free shipping on purchased $50+ from Nov 23-Nov 28
Pacifica Beauty – 30% off sitewide Nov 20 – Nov 27. 30% off Nov 28-Dec 2
Painted Desert Nails – TBD
Peach & Lily – TBD
Physicians Formula – up to 40% off sitewide Nov 18-Nov 27, up to 40% off & GWP Nov 28-Dec 1.
R.E.M. Beauty – 30% off from Nov. 23-Nov 28
Rituel de Fille – Nov 24-Nov 28, 20% off sitewide on all full-size colors with code GLOW20. We will also reveal entirely new full-sized gifts with purchase unlike anything we have offered in the past, more details forthcoming!
Silk Naturals – now through Nov 15 save 10% with code nov22
Sourpuss Clothing – right now save 40% with code BLACKCAT now through Nov. 14
Strange Cvlt – TBD
Sugarpill  – TBD
Sydney Grace Co – TBD. Plans aren't finalized but they are having a BF sale and are still deciding what to do.
Terra Moons Cosmetics – TBD
Urban Decay Cosmetics – TBD
Vera's Eye Candy – TBD
Vide Noir Gothic Couture and Lingerie – TBD
Young Nails – a BF sale that starts Nov 20 at 6pm PST, 30% off sitewide, excluding mystery boxes. Lots of new product launches
Final Thoughts
If you are a brand and would like to be added to my Black Friday Cyber Monday Sales list, please email me!